WHERE VOLATILITY THRIVES
Mark Gilbert has written extensively in BloombergView about the demise of volatility across asset classes and what this may portend for markets (see Volatility Dies, Hedge Funds Lose).  As Mark and other commentators have pointed out, the effect has been to narrow the dispersion of asset returns and hence reduce the opportunity set.  This can be seen quite clearly in the following chart, which tracks the trend in the monthly cross-sectional dispersion in the DOW 30 index member stocks, together with the CBOE S&P 500 Volatility Index ($VIX). Monthly dispersion reached a low of 3.3% in August, only marginally higher than the all-time low of 2.8% in February 2007 that preceded the crash of 2008/09.
            CBOE VIX INDEX AND DISPERSION IN  THE DOW 30 STOCKS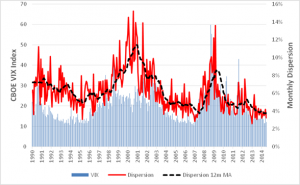 The concern that macroeconomic or geopolitical risk factors could cause the Fed to lose control of the process is reflected in the persistently high levels of the VVIX, the volatility of the VIX, i.e. in the volatility of volatility.  The latest reading in August of 8.8% for the VVIX is well above the long-term average level, despite the persistent downtrend in the series since 2008.
CBOE VIX INDEX ($VIX) AND AVERAGE DAILY VIX VOLATILITY (VVIX)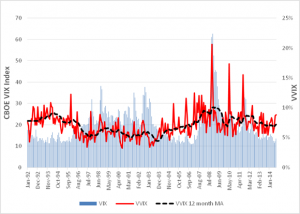 To give some perspective, this is equivalent to an annual volatility of around 140% – more than enough to give rise to profitable trading opportunities, which in part accounts for the continuing popularity of volatility ETF and ETN products, such as the iPath S&P 500 VIX ST Futures ETN (VXX) and VelocityShares Daily Inverse VIX ST ETN (XIV), as well are their counterparts in VIX futures and options.  As stocks continue to move in a highly correlated way the pickings will be slim for traditional strategies that depend on normal levels of dispersion, such as equity long/short and pairs trading.  In the meantime, investors might do better to focus on the volatility asset class and other niche sectors that continue to offer opportunity.