HIGHLIGHTS
2015 YTD: + 12.02%
CAGR over 40%
Sharpe ratio in excess  of 3
Max drawdown -13.40%
Liquid, exchange-traded ETF assets
Fully automated, algorithmic execution
Monthly portfolio turnover
Managed accounts with daily MTM
Minimum investment $250,000
Fee structure 2%/20%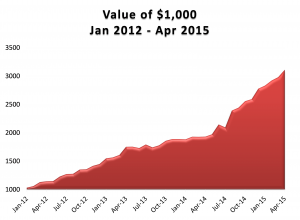 STRATEGY DESCRIPTION The Systematic Strategies Volatility ETF  strategy uses mathematical models to quantify the relative value of ETF products based on the CBOE S&P500 Volatility Index (VIX) and create a positive-alpha long/short volatility portfolio. The strategy is designed to perform robustly during extreme market conditions, by utilizing the positive convexity of the underlying ETF assets. It does not rely on volatility term structure ("carry"), or statistical correlations, but generates a return derived from the ETF pricing methodology.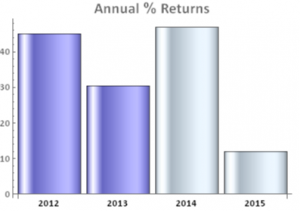 The net volatility exposure of the portfolio may be long, short or neutral, according to market conditions, but at all times includes an underlying volatility hedge. Portfolio holdings are adjusted daily using execution algorithms that minimize market impact to achieve the best available market prices.
RISK CONTROL
Our portfolio is not dependent on statistical correlations and is always hedged. We never invest in illiquid securities. We operate hard exposure limits and caps on volume participation.
OPERATIONS
We operate fully redundant dual servers operating an algorithmic execution platform designed to minimize market impact and slippage.  The strategy is not latency sensitive.
MONTHLY RETURNS

    (Click to Enlarge)
PERFORMANCE STATISTICS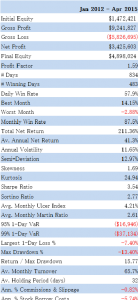 (Click to Enlarge)
Disclaimer
Past performance does not guarantee future results. You should not rely on any past performance as a guarantee of future investment performance. Investment returns will fluctuate. Investment monies are at risk and you may suffer losses on any investment.